Soft on the inside, with a nice little crust on the outside. This bread is a bit dense, but not super heavy like I thought it might be. Yummy stuff!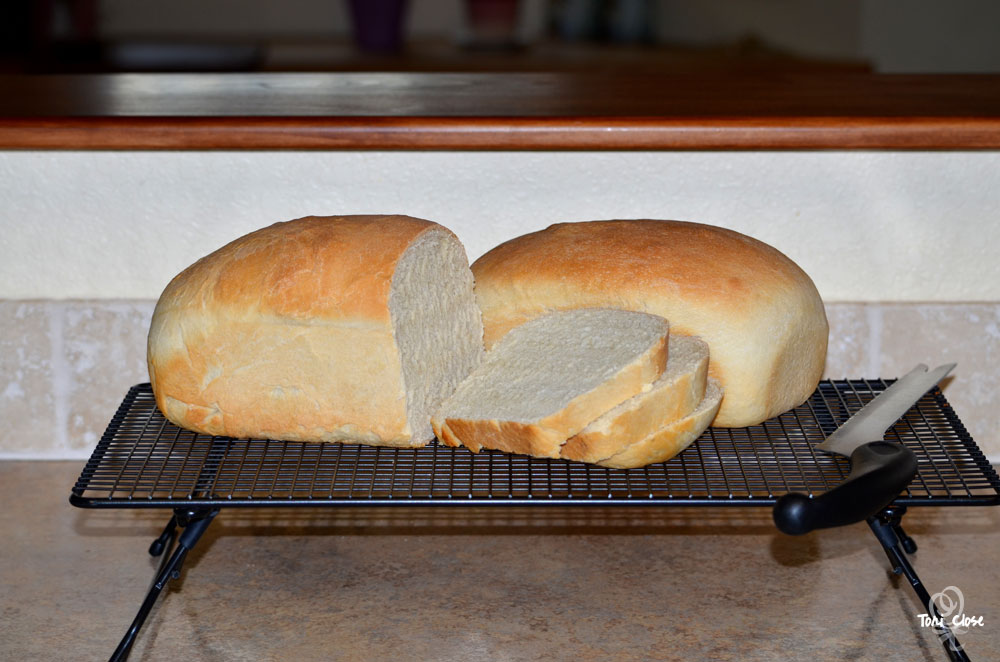 Happy Baking, my friends!


---
5-ingredient Bread
Ingredients
2 cups warm water
2/3 cup honey – * I only use 1/3 cup, and find it works just as well!
2 tablespoons dry active yeast
1/2 tablespoon salt
6 cups bread (or all-purpose) flour
Instructions
Preheat oven to 325°.
Whisk warm water and honey together until honey is dissolved.
Whisk in yeast, cover with a towel, and let sit for 20 minutes. When you uncover it, you should have a nice little frothy/bubbly type layer on top.
Mix in salt, then add flour, one cup at a time.
Turn out on a lightly floured board and knead for about 5 minutes, or until it is smooth and elastic.
Place in a lightly oiled bowl, cover with a towel, and let rise for 1 hour.
Punch down dough, knead slightly until you have it back into a ball, then divide into two loaves.
Place in two lightly oiled loaf pans, cover with a towel, and let rise for another 30 minutes.
Remove towel and place in oven. Bake for 30-40 minutes, until lightly browned on top. (My oven took 40 minutes)
Remove from pans, and place on cooling rack.
Notes
I changed the amount of yeast in the original recipe from 1 3/4 tablespoons to 2 tablespoons, simply because it is easier. lol It made the bread rise nicely though, and I think if I had used less, it would have been more dense.
I rarely ever turn out my bread to knead on the counter. I let my stand mixer do all the work for me. If you don't have a stand mixer though (or a good bread/dough mixer), make sure not to skip that step!
Lastly, if you don't have honey, you can use the same amount of sugar as you would honey, but add 1/4 cup of oil to the recipe when you are adding the salt. (step 4) Then bake it at 350° instead of 325°.
Even though I know this was posted on Facebook, I want to give you the link to the original recipe. Why? Because it is the nice thing to do.
You can find it here.
---
(Sidebar photo by: Calum Lewis on Unsplash)